THANKSGIVING is my favorite holiday and has been for many years now. I love Thanksgiving because it is a simple holiday that focuses on faith and family. We make time to be together around good food and make time to count blessings. This year my parents, Tom & Lois Maloy (who just celebrated SIXTY YEARS of marriage yesterday) shared stories of their courtship and early marriage. It was a good, good day.
Today I am sharing yet another favorite recipe and this one is extra special to me because it's my dad's recipe. He taught me how to make cornbread dressing several years ago. I loved spending that Thanksgiving morning in the kitchen with him and wrote down everything he did. Since I was given the dressing blessing, I wanted to share the recipe with you today. It's simple, Southern, and very traditional. I don't know to make just a little bit – but I guess you could half everything to make just one pan of dressing. We have 20-22 people at our table, so I make plenty!
Southern Cornbread Dressing (makes 2 9×13 pans)
Ingredients:
A large pan of cornbread (recipe below – you will need 8 cups of crumbled cornbread)
Four pieces of white bread (allow to dry out or lightly toast, tear into small pieces)
Two cups (1 small bag) of Pepperidge Farm Herbed Stuffing
One can of Campbell's Herbed Cream of Chicken soup
Two medium onions, diced well
Three to four stalks of celery, diced small (I like to use the small tender pieces)
One stick of butter
Two teaspoons of poultry seasoning (more or less to your taste)
Salt/Pepper to taste
Three eggs
Chicken Broth (can make your own or used store-bought, you need 8 cups)
Instructions:
1. Make cornbread first – I usually do it the day before, and this is a larger than average skillet.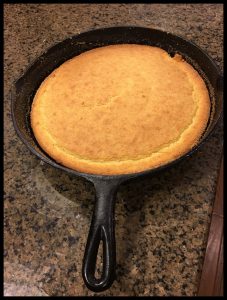 Cornbread Recipe
2 1/4 cups White Lily self-rising cornmeal
3/4 cup of White Lily self-rising flour
2 eggs
2 1/4 cups of buttermilk
1/2 cup of vegetable or Canola oil
[Crisco shortening or bacon grease or vegetable oil to grease cast-iron skillet]
Preheat your oven to 450 degrees and then put 2-3 Tablespoons of either Crisco shortening, solid bacon grease, or vegetable oil in a large cast-iron skillet. Place skillet in oven while oven is pre-heating. Now mix wet ingredients: oil, beaten egg and buttermilk. Mix cornmeal and flour together and add to buttermilk mixture. Carefully remove the hot skillet from the oven, swirl skillet around to be sure melted grease covers the skillet (this takes practice, be careful)! Now pour the cornbread batter into the hot greased skillet. Love that sizzle! Bake 20-25 minutes until nicely browned.
2. Make your chicken stock early so it can simmer a couple of hours, unless you are using store-bought chicken stock. I fill a stock pot with 3-4 quarts of water. I prefer to use a whole hen, but you can use 3-4 lbs. of chicken pieces, breasts/thighs (and if you're roasting a turkey, add the turkey neck), 2 onions quartered, 2-3 stalks of celery with leaves, 2 carrots cut in large pieces, 1/2 stick of butter, salt/pepper. Simmer.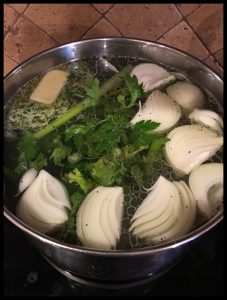 3. To begin making the dressing, first combine the crumbled cornbread, dry white bread and the Pepperidge Farm herbed seasoning crumbs together in a large bowl. Set aside.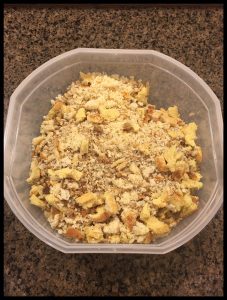 4. Melt a stick of butter in a large skillet over medium heat and saute the diced onion and celery together until it is soft, transparent – but do not let it brown! Pour the onions/celery over the cornbread mixture.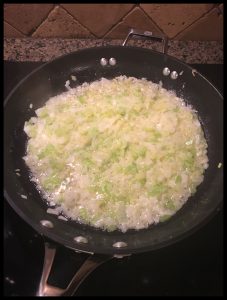 5. Next, add in the can of Herbed Cream of Chicken Soup and the 2 teaspoons of poultry seasoning (add more to taste if you like a stronger flavor).
6. Now strain your chicken stock (broth) so you just have the liquid (not the meat, carrots, celery, onions). Pour the hot broth over the whole mixture and stir well. You want the dressing to be the consistency of oatmeal, not too soupy, not too thick. TASTE NOW BEFORE ADDING RAW EGGS!  This is where you can taste the dressing and add salt/pepper or more seasoning if you'd like.  We say Less Is More when it comes to sage/poultry seasoning.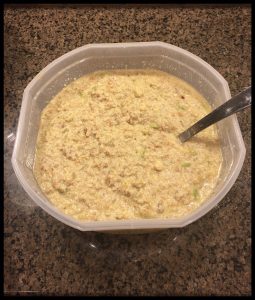 7. Add 3 beaten eggs and mix again.
8. Pour the dressing into 2 buttered/greased 9×13 casserole dishes and bake at 400-425 degrees until browned on top, 30-45 minutes.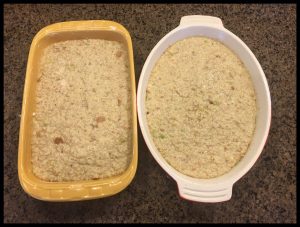 I forgot to take a picture of the "browned/baked" dressing, but I found two pictures that show it among the Thanksgiving spread (and my delightful grandchildren) our family enjoyed. It is in the oval dish on the far right and in the partially consumed dish below!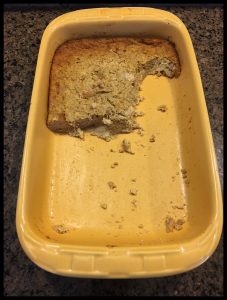 Cornbread dressing is a staple at Southern tables. We don't say stuffing, we say dressing. You can also sprinkle a little paprika on top for color, or add some chopped pimentos for color if you'd like. Dressing is not a pretty dish, but it is a delicious dish!
One last thing! I make the dressing the day before Thanksgiving and leave it in the fridge in a big bowl. The next day I put it in my casseroles for baking. I think it helps the flavors all meld together – but actually it also gives me time to do all the other cooking I have to do for Thanksgiving!
Counting my blessings this Thanksgiving Day!