My friend Jan Hamil and I recently held the Fall 2016 Session of "Tasting Grace," our church's mentoring-in-the-kitchen ministry. We love our Saturdays in the church kitchen so much. I made a whipping cream pound cake and wanted to share the recipe here. My dear friend Lanie Nash gave the recipe to me as her go-to pound cake. Every Southern woman has a go-to pound cake recipe and if you don't, this one can now be yours! [All pound cakes start with butter, sugar, flour and eggs; variations include buttermilk, sour cream, cream cheese, whipping cream.] I promise this whipping cream version will not disappoint. I made another one when I got home Saturday because my husband had "FOMO" [Fear of Missing Out] when I brought home that empty cake plate! He also likes my buttermilk pound cake, but says he will need a taste test to pick his favorite. I think he just wants ANOTHER pound cake! He's not fooling me. We've been married 39 years, I know these things…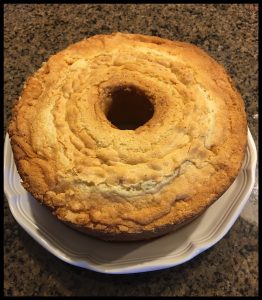 Ingredients:
6 eggs (room temperature)

2 sticks of butter (room temperature)

3 cups sugar

3 cups all purpose flour (sifted)

1 cup whipping cream (also known as heavy cream)

1 teaspoon vanilla
Instructions:
Grease and flour tube pan.

Cream butter and sugar until smooth (I use my stand mixer.)

Add eggs one at a time, beating after each addition.

Add the sifted flour to creamed mixture alternately with whipping cream. Begin and end with the sifted flour. 

Mix all until fully incorporated.

Stir in vanilla.

Pour into prepared pan and place in a cold oven

.

Turn oven to 300° and bake for 1 hour 15 minutes.

Cool completely before removing from pan.
Trust me about the cold oven…just do it!