I've made two batches of these old-fashioned no-bake cookies the past 2 weeks. These cookies are my husband's all-time favorite. He reminded me of that just last week when I made them at his request. I remember my mother making these for me and my sisters when we were growing up. They are quick and I usually have all the ingredients on hand. I tell my people they are healthy with the raw oats and cocoa in them…and just don't mention the butter and sugar. Balance anyone?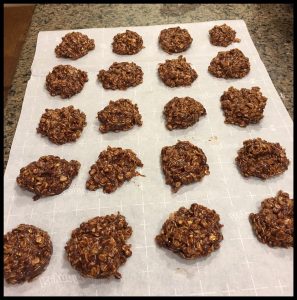 1 and 1/2 cups sugar

1/2 cup of milk

1 stick of butter

1/4 cup cocoa powder (unsweetened)

1/2 cup creamy peanut butter

1 tsp. vanilla flavoring

3 cups oatmeal
1. Go ahead and line a large cookie sheet with parchment paper.

2. In a large pan on the stovetop, bring the butter, milk, sugar and cocoa to a gentle boil, stirring until smooth.
    [Don't boil too long – just until mixed well,  30-40 seconds.]
3. Remove from heat and stir in the peanut butter and vanilla flavoring. Mix well again.
4. Now fold in the 3 cups of oatmeal. I love this part!
5. Drop by heaping tablespoons on to the parchment paper to cool.
6. Allow them to cool and harden for about 30 minutes.
7. Store in the fridge in an airtight container for 3-4 days (if they last that long)!