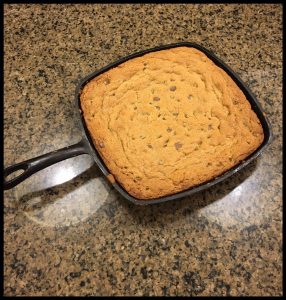 Like many Southern women, I love to cook with cast iron and have a nice collection in my kitchen. I have two cherished skillets that were given to me 30 years ago by an elderly woman at our church back in Athens, Georgia. They are very old and very special to me…seasoned to perfection. I love old cast iron and that just confirms I'm Southern to my bones.
Most of the time I use my cast iron pans and skillets for cornbread and biscuits. This deep-dish cookie recipe is sweet and good and I just had to share. When my boys were growing up, we rarely had birthday cakes for them. Instead we always ordered giant chocolate chip cookies from the Cookie Store at our local mall. The boys just preferred those cookies and we did too. They were delicious!  The Cookie Store closed and I've tried without success to duplicate the recipe…until now!  I hope y'all enjoy this Skillet Chocolate Chip Cookie as much as we did when I made it last week! [I used my stand mixer.]
No, grandson Abe had not just eaten Gran Jan's chocolate chip skillet cookie, but the sweet chocolate smile on his face made me so happy. I will make one for him the next time he comes to visit!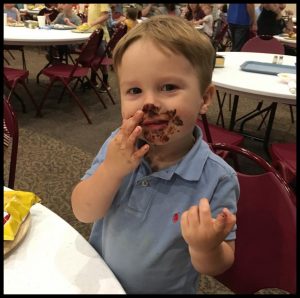 Ingredients
2 cups all-purpose flour

1 tsp baking soda

3/4 tsp salt

1 1/2 sticks of butter, softened

1/2 cup sugar

3/4 cup packed brown sugar

1 large egg, room temperature

2 tsp vanilla extract

1 1/2 cups chocolate chips

vanilla ice cream, to serve (optional but not optional)
Preheat your oven to 350 degrees F. Combine the flour, baking soda, and salt in a small bowl and sift/whisk together, set aside.

Place the softened butter and both white and brown sugars in the bowl of a stand mixer. Mix butter and sugars together on medium-high speed until they're light and fluffy.

Scrape down the paddle and the sides and bottom of the bowl, then add the egg and vanilla extract. Now mix again until the egg is fully incorporated into the butter. [Using an egg that is the same temperature as the other ingredients really speeds this process along, which is why so many baking recipes call for "room temperature eggs."]

When the butter, sugar, eggs, and vanilla are mixed together, you'll have a lovely fluffy, mixture.

Add the dry ingredients you set aside earlier, and turn the mixer to low speed. Mix it just until the flour disappears into the batter. Stop the mixer as soon as you get to this point so the cookie won't be tough.

Add the chocolate chips and stir them in by hand. Give the sides and bottom of the bowl a good scrape to get all that delicious dough!

I rubbed a very thin layer of butter into my cast iron skillet, then scraped the cookie dough into the pan and smoothed it out to an even layer.

Bake the skillet cookie at 350 degrees for 30-40 minutes, until it is golden, and the edges have nicely browned. I always look to see if it has started to pull away from the sides like in my picture. It is better to undercook a wee bit than overcook!

Let the skillet cookie cool until it's warm to the touch, not hot. Use a knife to cut it into wedges or squares like I did with this square skillet.

Serve with ice cream!