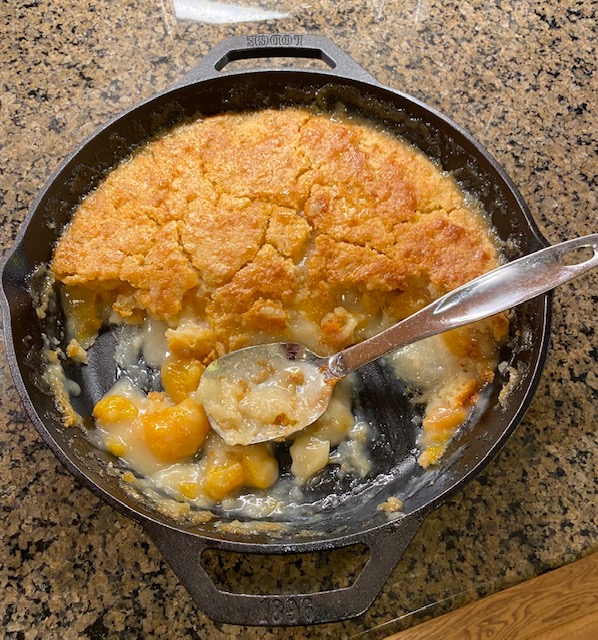 Peach Cobbler
(Use a 9″ x 13″ baking dish)

INGREDIENTS (step by step pictures below)

FRUIT/SIMPLE SYRUP:
4 cups of fresh peaches, about 7 medium peaches
(*see note below for using canned peaches)
3 cups of water
1 cup of sugar
CRUST:
1 stick of butter
1 1/2 cups of White Lily self-rising flour
1 1/2 cups of sugar
1 1/2 cups of whole milk

First thing (even though it is step #4):
Go ahead and preheat your oven to 375 degrees and put a stick of butter in your baking dish and slide in the oven to melt! It helps that delicious crust set up when the butter is good and hot in the dish!
FRUIT PREP
: You will "cook/simmer" your fresh fruit (about 7 medium peaches, peeled, sliced, and pit removed) on the stove top by making a simple syrup with 3 cups of water and 1 cup of sugar to bring out the fruit's natural juices!
About 7 medium size fresh peaches, peeled and sliced is about 4 cups.
*[May use two 16 oz. cans of peaches in heavy syrup. If using canned peaches, skip to step 4.]
1. Peel and slice peaches
2. Make a simple syrup by bringing 3 cups of water
and 1 cup of sugar to a nice simmer – not a hard boil
3. Add sliced peaches to the simple syrup and simmer 4-5 minutes on medium heat. Set aside when done.
4. Melt 1 stick of butter in an 8×8 or 9×13 baking dish. Once the butter is melted, remove the dish from the oven.
5. Using a wire whisk, mix WELL 1 1/2 cups of self-rising flour, 1 1/2 cups of sugar, and 1 1/2 cups of milk until all lumps are gone and it is smooth!
6. Pour this batter over the melted butter in your warm baking dish and DO NOT STIR!
7. Gently ladle in the peaches and the simple syrup you've
cooked them in, over the batter. You don't have to use all the syrup,
but you will regret it if you don't! Trust me! This is a juicy cobbler, not dry!
DO NOT STIR!
8. Slide into pre-heated 375 degree oven.
9. Bake 35-45 minutes (you know your oven) until cobbler
is golden brown and crust has risen to the top!
Serve the cobbler while warm and
with a scoop (or three) of vanilla ice cream on top.
This happens!
My husband likes the cobbler to be buttery, so I will often melt a little butter and brush it over the hot cobbler before serving.
A scoop of Bluebell Vanilla Ice Cream makes it heavenly!
Gran Jan