Spicy food is a favorite of mine, and I especially like jalepeno peppers. When I make Mexican Cornbread I add in lots of chopped pickled jalepenos.  Last month there was a post from Living Proof Ministries with their favorite holiday recipes. Go HERE to read the post and see the wonderful recipes.  When I saw Diane Riley's cornbread muffins recipe and that it was almost identical to my Mexican Cornbread recipe, I wanted to try to make muffins instead of a pan of cornbread.  The result was perfection!  I've shared my step-by-step recipe below: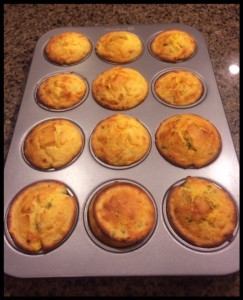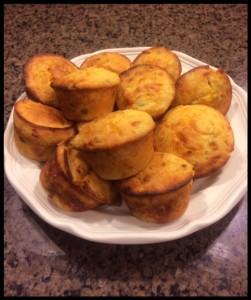 Gran Jan's Jalapeño Cornbread
Ingredients:
2 beaten eggs

¼ Cup Canola oil

1 Cup buttermilk

1  medium to large onion, diced (I put the diced onion & 1 Tablespoon of Canola oil in a bowl and microwave for 3 minutes so the onion is really done.)

1  can of creamed corn

1 ½ Cups self-rising cornmeal

½ Cup self-rising flour

1 cup sharp cheddar cheese (shredded)

4-5 Tablespoons of diced pickled jalapeños (or less or more )
Prepare:
1.  Mix egg and oil together, whisking until well blended.
2.  Pour in buttermilk and then add microwaved onion, and creamed corn.
3.  Next add cornmeal and flour and stir well. 
4.  Lastly, add shredded cheese and diced jalapeños. 
5.  Bake in a 450 degree pre-heated oven for about 25-30 minutes.  
You can either pour about 1/2 cup of the batter into each tin of a greased muffin tin (makes 12), or use a  good old Southern cast-iron skillet well-greased with Crisco to bake a pan of cornbread. (I sprinkle the skillet with cornmeal before pouring in the cornbread batter.  It makes the top crispy.)   
These are good with chili or soup or any stew or with just a bowl of pinto beans or blackeyed peas, or great northern beans, or white beans…or ANYTHING!
Hope you make some soon!
~Gran Jan