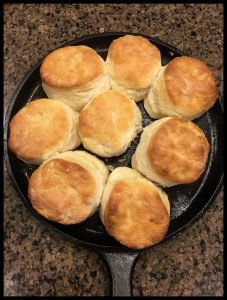 We are having a great Saturday here around the farm. It started this morning with a big Southern breakfast at the request of my oldest son. (Big Southern breakfast to us includes: grits, eggs, bacon, sausage, homemade bisuits and preserves, and sliced cantaloupe!) I made homemade biscuits this morning, and I wanted to share my recipe. I have the ingredients down to measured amounts – which is unusual for most Southern women and their "pinch here and there" while making biscuits!
Gran Jan's Homemade Buttermilk Biscuits
(This makes about 10-12 medium sized biscuits.)
2 1/2 cups of White Lily self-rising flour
1/2 cup of Crisco shortening
1 cup of buttermilk
Preheat oven to 450 degrees.

Lightly grease a baking sheet or pan with some Crisco.

I use this cast iron skillet for baking biscuits and absolutely love it! I've seen it at Ace Hardware and also at Wal-Mart. Of course, Amazon is a great place to search for it – you will love it and this cast-iron Gran Jan would not lead you astray!

Mix flour and shortening together until the mixture resembles crumbs.

Next, pour in buttermilk and mix well. (I hold the bowl with my left hand and use my right hand to mix everything together – but you can use a large fork to mix if you prefer.)

Now wash and dry your hands

well

and then "dust" your hands with more flour.

Pinch off some of the dough and roll it in your floured palms. Don't handle the dough too much – my Grandmother always told me the biscuits would be lighter and fluffier if you don't handle the dough too long. Just a quick knead is all you need!

Place the biscuits on the pan so they touch each other – this makes them softer.

Bake for 15-20 minutes or until golden brown.

Brush with melted butter and serve.
Today I felt a little whimsical fancy 🙂 and decided to roll the dough out so I could use one of my antique biscuit cutters. I bought the biscuit cutters at an antique market in Atlanta several years ago. I used the scalloped edge biscuit cutter today. I have a large one and a small one. (The three small biscuits were for the grandchildren.) If you roll the dough out instead of just forming the biscuits with your hands, be sure to flour the surface of the counter first.
After breakfast my husband, son, and grandson all decided to take a swim in the pond. They had the most wonderful time and swam for almost 2 hours…which means they had hearty appetites for lunch!  These hearty appetites led to another Southern delicacy…Tomato Sandwiches!!!
I am very thankful for the garden bounty we've had this summer.  I love to garden for the pure joy it brings me, but the side benefit of the delicious produce is wonderful this time of year.
My youngest son and his wife and son joined us for lunch today and we had a wonderful time around the table. The grandchildren are at the age now where they can play together a bit more. Zeke will be 3 next month and Madie Ruth and Jackson are both almost 14 months old.  Good times indeed.  I am counting my blessings this Saturday, and family time is right up there at the top of my list!!!