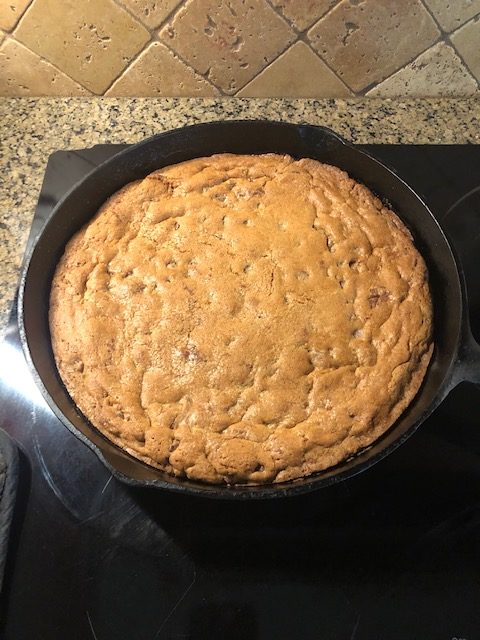 I have made this Cast-Iron Skillet Chocolate Chip Cookie three times the past month or so, and it has been a hit with the family. I made one this afternoon when I discovered it was a favorite dessert of my daughter-in-law, Carrie. I will get the opportunity to send some home to her by my son, who just happens to be preaching at a men's conference close by tonight. God is good! I love every opportunity to see my out-of-town family and to cook for them.
Here's my recipe below – tweaked and tested!
1 cup firmly packed dark brown sugar
½ cup granulated white sugar
1 cup (2 sticks) butter, softened (I used salted butter)
2 teaspoons vanilla extract
2 eggs
1 teaspoon baking soda dissolved in 2 teaspoons of hot water
1/2 teaspoon of salt
2 ½ cups all-purpose flour
2 cups of semisweet or milk chocolate chips
I began by setting my own to 375 degrees. Then I went ahead and slid my skillet into the oven to warm while I made the cookie. I used a 12 1/2″ well-seasoned, beautiful, wonderful, old skillet I've had for many years that was gifted to me over 35 years ago and there's no telling how old it was then! A treasure to me for sure.
I used my Kitchen-Aid stand mixer and beat both sugars and the butter until nice and smooth. I then added the eggs, one at a time, beating well after each. Next I poured in the vanilla and gave it a quick mix. Then I added the baking soda dissolved in hot water, then the salt, and the flour. (I added the flour in 3 "additions," not all at once. I mixed until the batter was smooth – not too long! Be aware that this cookie dough is stiff. Lastly, I stirred in the chocolate chips by hand.
Then I carefully removed my hot skillet out of the oven and used a couple of paper towels to lightly grease it with some Crisco. Then I spooned the cookie dough evenly into the skillet and smoothed it out some with a spatula. It responded to the hot skillet by getting softer, and that helped!
I baked the cookie until the edges were lightly browned, exactly 28 minutes.
I removed the skillet from the oven and let it cool for 15 minutes. I then cut it into 16 wedges with a knife and used my long offset spatula (that I use with icing) to get the wedges out of the skillet. It worked great to get under the long skinny wedges. I think it would be really great with vanilla ice cream on top – in fact, I believe that is Carrie's favorite way to enjoy this skillet cookie.
I just told my husband Gary I may order some little skillets to make these into "personal skillet cookies." He proceeded to ask me how we were going to remodel the kitchen with more cabinets because…well, he knows how much I love all things kitchen, and cast-iron.
I must share this…the secret ingredient! This ingredient is very, very special and no one can replicate this ingredient. My precious little sous chef, 7 year old granddaughter, Emery. (This was made a couple of weeks ago.) She is a wonderful helper in the kitchen, in the garden, in the sewing room, and well, anywhere! Gran Jan's JOY for sure.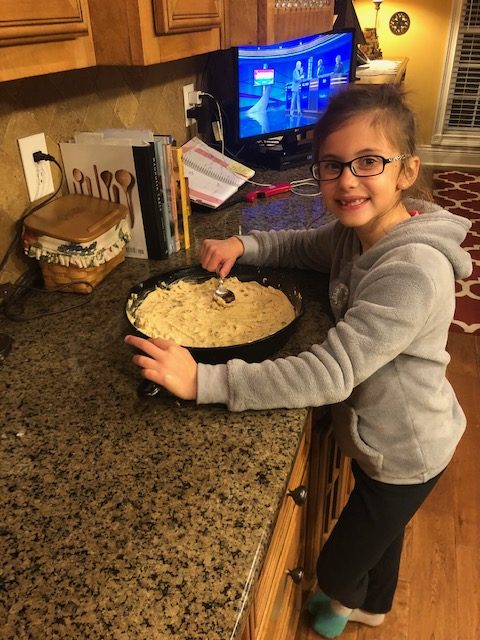 God bless you all, Gran Jan